Lake Tahoe -- Where love blooms in every season!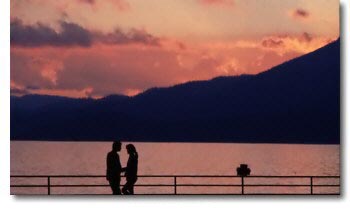 Lake Tahoe is one of the most romantic hot spots on the West Coast. Nothing else quite says "I love you" like a week-end or week long getaway to Lake Tahoe. Leave your work at home and fall in love all over again!
It's all here, and close by. Secluded cabins with warm and crackling fireplaces, hot tubs with awesome views and more stars than you can remember. World-class slopes that will rival any rush you've ever had. Five-star dining in the mountains or lake-side. Las Vegas-style shows and casinos. A clear blue lake with awesome sunsets and sunrises over the mountains. And any kind of outdoor activity you could want, from hot-air balloon rides to wind surfing and hiking. Lake Tahoe's got it all!
First things first-- you need a place to stay! Browse the romantic lodgings specials shown on this page, or use the search form below for real-time availability and on-line reservations. Or, for personal assistance and the same great rates, call .